NLP 2020 Intake - All you need to know

ABOUT NLP
(N)EURO refers to the Nervous system (the mind) through which we process our experiences via our five (5) senses.
(L)INGUISTIC refers to language and other non-verbal communication systems through which our neural representations are coded, ordered and given meaning (pictures, sounds, feelings, smells, tastes, words or self-talk).
(P)ROGRAMMING refers to the ability to discover and utilise the programmes (neuro + linguistics) that we run in our neurological systems to achieve our desired outcomes.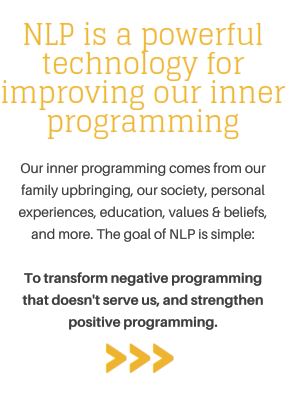 NLP IS AN INTERNATIONALLY RECOGNIZED PROGRAM
Our NLP Certification is recoginized by:

YOUR IMMEDIATE GAINS FROM THIS 12-DAYS TRAINING COURSE
Build rapport with difficult people

by learning how to speak their language

Understand how the brain works

and different styles of thinking - for greater flexibility in communication

Ask intelligent questions

to lead conversations and uncover the hidden meaning behind people's words

Create resilient relationships

by learning art of pacing and leading

Faster decision making and managing your stress better

by tapping into your physical and emotional intelligence

Coach people out of hijack situations

Be in control of your mind

, overcome bad habits

Develop a proactive mindset and learn to focus on the "glass half full" while remaining objective and sincere
Have richer conversations with the CURE communication model
Gain greater self-confidence and self-esteem
Follow a new daily routine that works for rather against you
….And much more are waiting for you to explore by joining us!
AFTER 12-DAYS OF TRAINING…
We will not stop our journey at "being certified" and saying goodbye, but together we grow and "pay it forwards" through various meaningful activities by becoming members of NLP Community to pursuit one common goal:
(N)URTURE (L)IFE (P)OTENTIAL

Click here for more information on our NLP Community
OUR TRAINER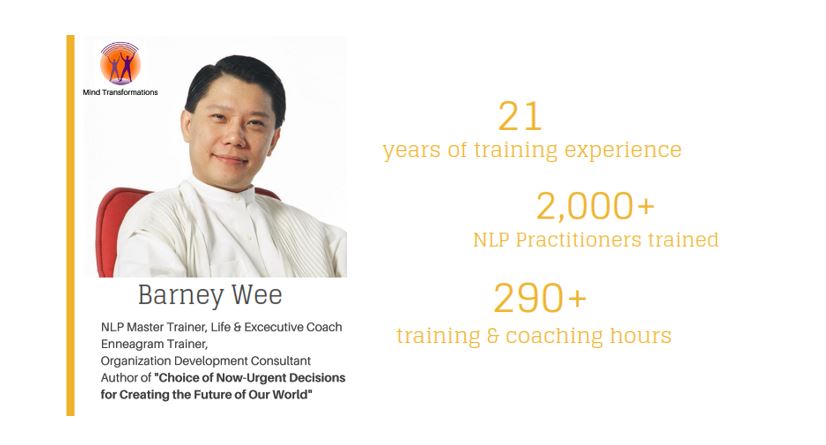 Barney is the pioneer of Multi-Intelligence NLP. He has integrated NLP with the practical aspect of the Multiple Intelligences theory (formulated by Havard Professor - Howard Gardner) and he is helping people achieve congruent and sustainable change at all levels - through coaching and training.
Barney is also well-known as the Founder of Mind Transformations Pte Ltd., which is the longest continuous-running NLP traning & coaching institution in South-East Asia.
Mind Transformations is the longest continuously-running NLP training & coaching institution in Asia (since 1997).
Click here for more information on Minds Transformation.
ARE YOU READY TO TAKE A SEAT IN OUR 2020 CLASS?

...OR STILL CONSIDERING…
NO WORRY!
Come & Join us on the FREE & FRIENDLY SHARING SESSION with our Experienced HR & Certified NLP Practitioner to get more insights on NLP and its practical applications!
Time:

9am – 12pm, Saturday – 16 November 2019

Venue: Dynamic Consulting Office – 69-71 Thach Thi Thanh, Tan Dinh Ward, District 1, HCMC

DOWNLOAD NLP 2020 INFORMATION HERE.
CONTACT US
For more information or any questions on NLP 2020 Training Course, please stay in touch with us: