NLP For Industrial Revolution 4.0 - Live Webinar With Barney Wee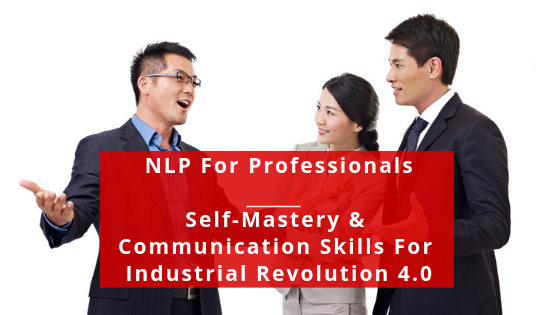 SELF MASTERY & COMMUNICATION SKILLS for INDUSTRIAL REVOLUTION 4.0
Invitation to Free Webinar on 10th Jan, 2019.
Where do you see yourself - when Industrial Revolution 4.0 is here?
REGISTER NOW for the Skills for IR4.0 Webinar: http://bit.ly/2CP0Mee
Do you see yourself as a Leader who is at the forefront of this development? Or are you a Coach who grows people to be at their best?
Here's our prediction: Industrial Revolution 4.0 would take more than technology and knowledge to prosper. In fact, we are not short of knowledge and technology today, but we need people who can work together to apply technology and knowledge. We need Leaders, Coaches and teams who work in synergy. We need more people who can communicate, develop relationships and collaborate.
This is why we're taking the lead, to bring a renowned NLP Training to Vietnam.
Our aspiration is to see more people be equipped with the soft skills and self-mastery that takes them forward—even before Industrial Revolution 4.0. You don't have to wait for others to take the lead, you CAN be a Leader.
With NLP, you'll be able to:
Develop a strong and resilient mindset

Communicate with a wide range of target audiences

Ask astute questions that elicit a genuine response in people

Have greater mastery of your emotions and personal effectiveness
Join the FREE WEBINAR on 10th Jan. Learn from our training partner in Singapore, Barney Wee.
Barney is an NLP Elder who has more than 21 years of experience training Leaders, Executives, Sales People, Coaches & Trainers. His specialisation is in communication and coaching. Here's what you can expect in this webinar:

How Industrial Revolution 4.0 will affect HR, Managers/Directors & Trainers?

How NLP helps executives accelerate their development in self-mastery and communication

NLP mental framework for Self-mastery: Mindset for change

How to narrow the gap in communication by the different ways in which people receive and process information

It is a rare opportunity to get Barney to join us for this sharing. We hope you'll grab this opportunity to learn and maximise the session. Be prepared to ask your questions too!


Time: 10th January 2019 - 7:30pm Vietnam time
Online - Zoom Webinar

REGISTER NOW to avoid disappointments!
----------------------------------------------------------------------------------
In this increasingly automated world of industrial revolution 4.0, some human skills are simply irreplaceable. This includes complex problem-solving, critical thinking, cognitive flexibility and people management skills.
How to upgrade the capability of you and your team in those skills for better performance and more satisfaction in both work and life? Introducing NLP (Neuro-Linguistic Programming) - an integrated approach that accelerates your learning and application of those skills. Check out our NLP introduction webinar for more details. Please fill in the Personal Info Formto get links 5 parts for your easy reference:
Don't forget to follow us for more exciting news on upcoming NLP courses in Vietnam!
REACH OUT TO US:
Call/Whatsapp: +84 83 460 7919
Email: hello@dynamicco.com.vn